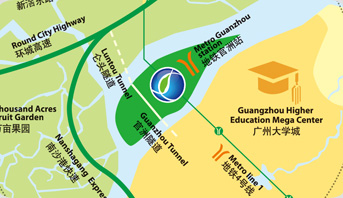 Covering an area of 1.83 sq. km. and located in the geographic center of Guangzhou, Guangzhou International Bio Island is the core carrier of National Biological Industry Base of Guangzhou (consisting of the Bio Island and Science City under the jurisdiction of Guangzhou Development District) approved by the National Development and Reform Commission. It was listed in the Outline for Reform and Development Planning of Pearl River Delta Region in 2008, becoming a national strategic project and provincial core construction project. As approved by the Guangzhou municipal government, the Administrative Committee of Guangzhou Development District is the competent authority of the park and the park is included as an important platform for strategic development of "Sino-Singapore Guangzhou Knowledge City, Guangzhou Science City and Guangzhou International Bio Island" of Guangzhou Development District. Guangzhou International Bio Island Investment & Development Co.,Ltd was founded in 2010 with its main responsibilities lying in the investment, development and operation management and investment promotion for the Bio Island. On July 8, 2011, an opening ceremony was held for Guangzhou International Bio Island and the first batch of biotechnology enterprises signed in. There have been more than 100 biotechnology enterprises signed in so far.
Guangzhou International Bio Island puts emphasis on introducing domestic and overseas high-end biotechnology enterprise headquarters and R&D center, biotechnology research and development institutions, biological service enterprises and organizations which provide professional supporting services and relevant financial investment organizations which provide such services as investment and financing and IPO listing for the development of bio-pharmaceutical industry. Adhering to the service concepts of "all for enterprises, all for investors" of Guangzhou Development District and under the guidance of the government, the Bio Island Company has been providing all-round "one-stop" and "nanny style" service system for enterprises in the park which covers diversified services such as discussion on project, review and approval of site selection, industrial and commercial registration, property management, consultation on policies, conferences and meetings and supporting services such as catering. Since the opening ceremony of the Bio Island, it has successfully held several multi-party conferences for international biotechnology projects, i.e. UK-China (Guangzhou) Healthtech Open Innovation Workshop, Israel-China Science Bridges and professional international activities such as project presentation by Chinese Biopharmaceutical Association,USA and has actively taken part in establishing international cooperation mechanisms with several European and American countries, including the United Kingdom, the United States, Israel, Switzerland, Cuba, Canada and the Netherlands.
Relying on the rich cultural deposits, well-developed commerce and trade systems and environment suitable for establishing business and living of the millennium commercial city and the advantageous geographical location of the Bio Island (in the urban center), the Guangzhou International Bio Island will develop into a multifunctional urban center with biotechnology enterprises, talents and information integrated and providing governmental services, commercial services (financial services, trade and exhibition, etc.), and supporting services for living. It will be a place where high-speed pairing of wealth with intelligence occurs all the time, transactions of biotechnological achievements are concluded frequently and bio-economy flourishes.